Functional Modules Improve Recycling Efficiency
Functional Units for Plastic Recycling
Background
These optional functional system which including line Automatic Detergent Dosing System, Online Water Saving System, Sub-Product Collection System,Integrated Automation System and PURIFINES Washing System are independent research and development products.

The PET bottle recycling industry is gradually moving towards standardization and maturity. Reasonable washing process and configuration can realize the automation and intelligence of the recycling system. The following auxiliary systems of the washing line can improve the quality of the final product, reduce labor input, and obtain the greatest added value. It can be selected according to different demands and applications.
Automatic Detergent Dosing System
The automatic detergent dosing system is applied to the bottle pre-washing and hot washing section. Through the metering pump, safety valve, and other devices, the preset program can prepare washing chemicals under the formulary ratio and dose it to needful machines automatically. By in-line real-time monitoring of chemical concentrations, the system automatically doses prepared washing chemicals according to rPET flakes quality requirement and/or cleanness of raw material and saves manpower.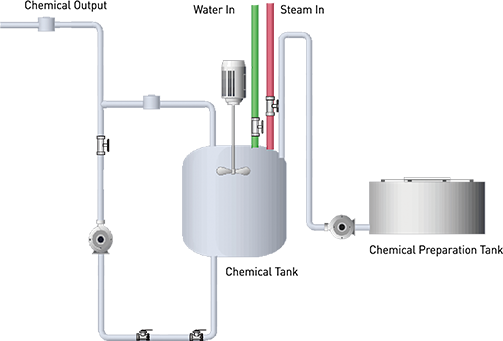 Online Water Saving System
There are lots of wastewater that will be produced in the bottle pre-washing, hot washing, and rinsing of PET bottle recycling. The online water-saving system collects, treats, and filters wastewater to achieve online water reuse. It greatly reduces water consumption. Over 50% of rinsing water can be processed to reach the quality requirement of industrial water for reusing it in the rinsing process, which saves water consumption.
Chemical A
Chemical B
Used Rinsing Water
Water Tank
Treated Water for Reuse
Sludge Tank
Access to Waste Water Pit
Sub-Product Collection System
PET bottle recycling separates a large number of caps, rings, labels, and fines. These waste materials are collected, after processing, they can be used as raw materials to enter the sales market, which enhancing the added value of the product. The sub-products such as labels, caps, and fines from every discharging point in the washing process can be automatically transported to ideal location for packing them conveniently. The system will reduce manual handling and forklift.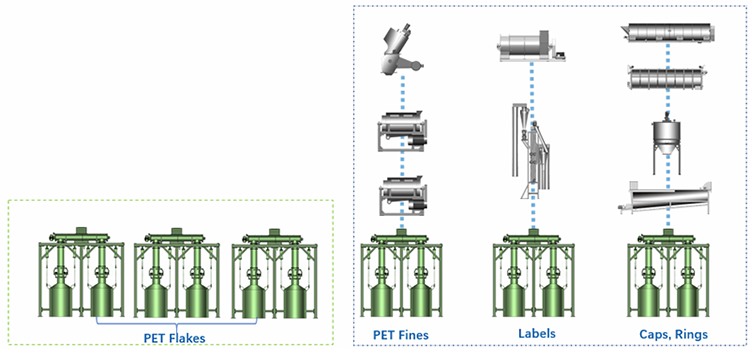 Integrated Automation System
Using intelligent IAS to supply automatic factory management for the PET bottle recycling system. The system can monitor all machine running statuses and conditions to fix any equipment problem in a timely manner,which enhances plant safety and control stability.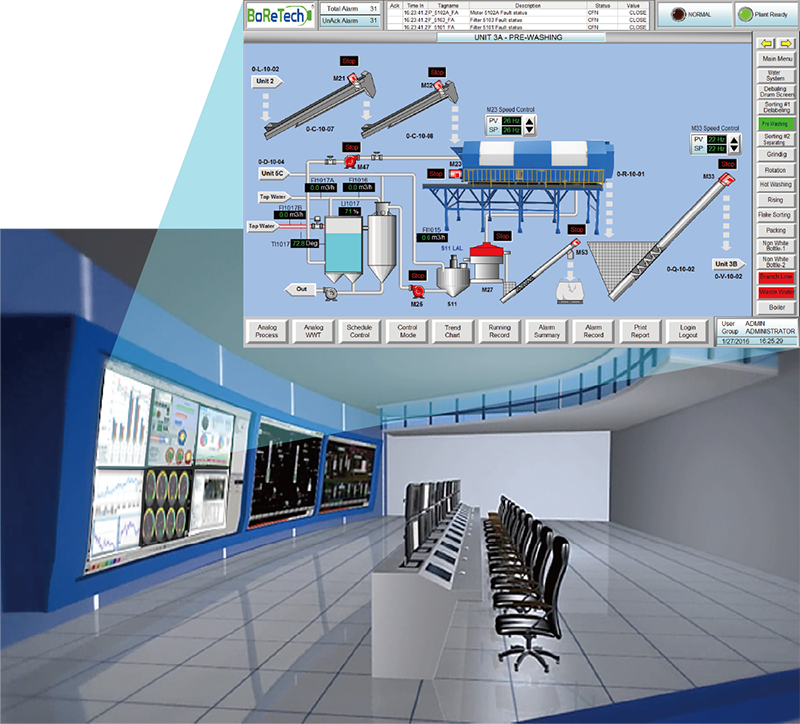 PURIFINES Washing System
PURIFINES washing system is developed for PET bottle recycling plant with large capacity and fines washing plant which is an advanced and environmental-friendly facility for purifying waste rPET fines. The entire system consists of a PURIFINES equipment and fines washing module. All PET fines from crushing, drying unit and ground can be recycled to reach the standard of staple fiber spinning to make fiber. PURIFINES is aimed at increasing the rPET recycling recovery ratio and enhances added value for PET bottle recycling plant. PURIFINES is special for separating the small labels, mud, and sands from the rPET fines without any additive solvent such as concentrated brine, and then collect the pure rPET fines.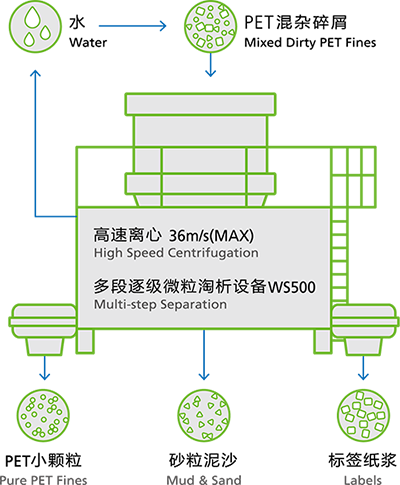 3D Layout