Super Clean Solution for PET Bottle Recycling
Micro Denier Filament Grade PET Bottle Washing Line
Background
Micro-denier filament grade PET bottle washing line is more and more applied in the PET recycling industry.

People pursuit and expect a higher quality life as the development of the global economy, and prefer eco-friendly daily necessities. The world's top brands are promoting a more environmentally friendly consumption concept while creating benefits. These top brands have announced that increasing recycled content and even adopt 100% recycled material in their products, such as T-shirts, shoes, and so on. What's more, that will brings the customer a better consumer experience. Post-consumer PET bottles are recycled into micro denier filament through crushing, washing, pelleting, and spinning processes, which is widely applied into downstream, like high-density waterproof and anti-drilling fabrics, functional absorption materials, high-end knitted fashion and underwear, filter materials, moisturizing materials, etc. The products made by micro-denier filament are more flexible, skin-friendly, and eco-friendly. Recycled filament as an eco-friendly material is highly sought after by the market and have a good market development.
Product Feature
BoReTech micro denier filament-grade PET bottle washing line is developed for the downstream brands, such as Adidas, Nike, IKEA, etc., which requires recycled and eco-friendly filament. rPET flakes after pelletizing will be fed into the fiber production line and spinning into micro denier filament.

Micro denier filament-grade PET bottle washing line by BoReTech adopts a modular process design, international standard spare parts. It is available to adjust and optimize process modules according to PET bottle bales in different countries and regions. This system is equipped with an inline sub-product collection system, enhancing these sub-products added value and decreasing labors. The connection between devices adopts pneumatic and pumping conveying, every equipment position is removable, it's convenient for daily maintenance and process optimization due to materials changes in the future.

Micro denier filament grade rPET flakes have a higher standard requirement than food grade ones, especially on the impurities. Micro denier filament requires rPET flakes with fewer impurities when spinning. So that water circulation system of this grade PET bottle washing line is upgraded on a food-grade basis. Wastewater is filtered through bottle pre-washing, hot washing and rinsing, these water treatments have 3 steps circulation, wastewater will be recovered to industry water standard and be reused. The rPET flakes and residual chemicals can be completely separated after rinsing with plenty of fresh water. it can minimize impurities content in recycled PET flakes. This kind of rPET flakes has passed the back-pressure test of brands.

BoReTech Micro denier filament grade PET bottle recycling system adopts a SCADA system combined with a PLC controller, which can display parameter data of each unit and single equipment intuitively and effectively, and at the same time the system can record all production data, and it has combined the remote communication technology to allow communication between customers and BoReTech engineers by the internet and give them real-time guidance. BoReTech can assist customers with practical production management, data analysis and equipment daily maintenance. In addition, the entire PET bottle system is equipped with an optical bottle sorter and flake sorter, which greatly reduces the investment of labor and improves production efficiency, thereby truly achieves a highly automated and clean recycling system.

BoReTech provides a total solution from waste PET bottles to polyester staple fiber, please refer to https://www.bo-re-tech.com/en/solution/Polyester-Staple-Fiber-Production-Line.html .
Highlights of PET Bottle Washing Line
1. Modular design of functional units.
2. Bottle Pre-washing and water circluration system with patent.
3. rPET flakes Pre-heating washing system.
4. rPET flakes hot washing process.
5. Inline sub-product collection system.
6. Inline water treatment solution.
7. Clean workshop standard.
8. Plantform is removable, pneumatic conveying design.
9. Low operation breakdown, production management guidance service for customer.
6000 kgh PET bottle washing line
Input Capacity
1500-9000 kg / h
3D Layout

Micro Denier Filament Grade PET Bottle Washing Process

De-baling ➜ Metal Removal ➜ Label Removal ➜ Metal Removal ➜ Bottle Pre-washing ➜ Optical Bottle Sorting ➜ Manual Sorting ➜ Crushing ➜ Pre-heating ➜ Hot washing ➜ Friction Washing ➜ Rinsing ➜ Drying ➜ Dust Removal ➜ Optical Flakes Sorting ➜ Blending ➜ Online Inspection ➜ Packing

Ps. A standard sampling of food-grade PET bottle recycling process, equipment configuration and process will be optimized according to raw materials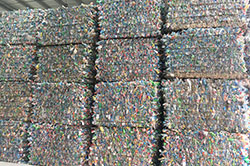 Waste Bottle Balers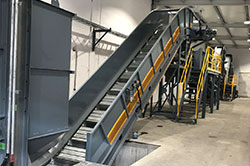 Chain Conveyor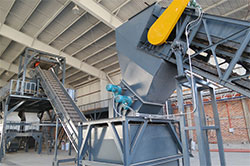 Debaler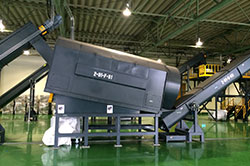 Trommel Screen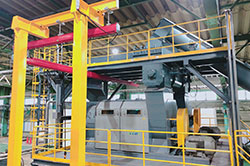 Label Scrapping Machine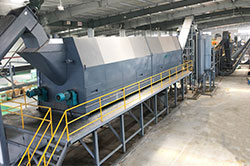 Bottle Prewashing Machine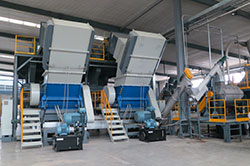 Crusher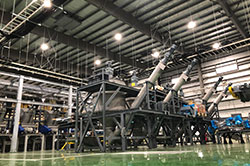 Hot Washer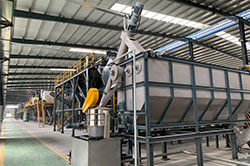 Floating Washer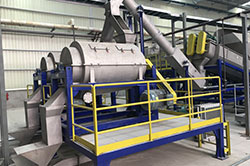 Dryer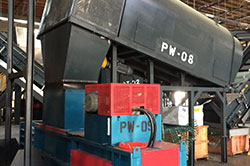 Baler
Micro Denier Filament Grade PET Bottle Recycling Process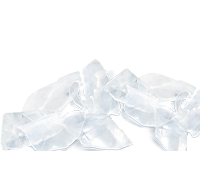 rPET flakes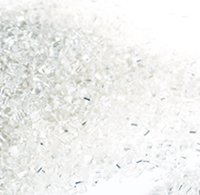 rPET chips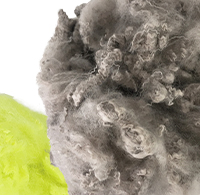 Polyester Staple Fiber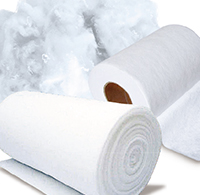 Non-wonven & Frbric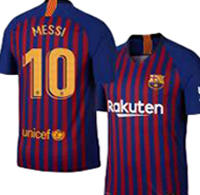 Shirt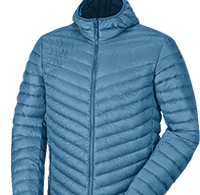 Sleepwear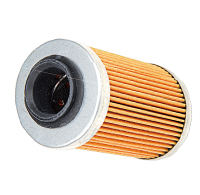 Filter Material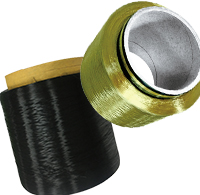 Micro Denier Filament