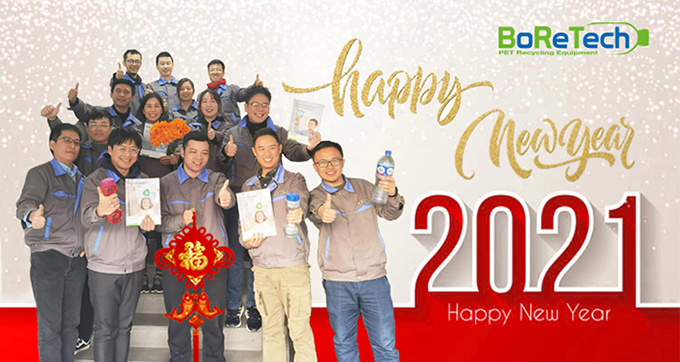 Happy New Year, Year of the Ox
Dear friends and BoReTech respected customers, Happy New Year!
BoReTech has embarked on a new journey of 2021, we wish every one of our customers has a safe and healthy life in 2021!

BoReTech Development of 2021
BoReTech is a pioneer engineering company in the recycled polyester industry integrated resources and technology. BoReTech has 30 years of PET recycling production experience and more than 15 years of equipment manufacture experience, which provides a total solution of the plastics recycling system, polyester staple fiber production, and textile machine, as well as bottle-to-bottle plant and service. BoReTech PET bottle recycling technology has always been at the forefront of the industry, providing PET bottle recycling equipment for more than 30 countries and regions around the world, and promoting the global recycling of more than 3 million tons of recycled PET bottle flakes per year. The rPET flakes grade and downstream applications are used in food-grade pellets, sheets, micro-denier filament, and staple fiber.
Read More
BoReTech New Website & E-Newsletter
We are delighted to announce that the new website of BoReTech has been online. For more information about plastic recycling,polyester fiber production line and PET bottle to bottle recycling, welcome to visit our website!
Read More